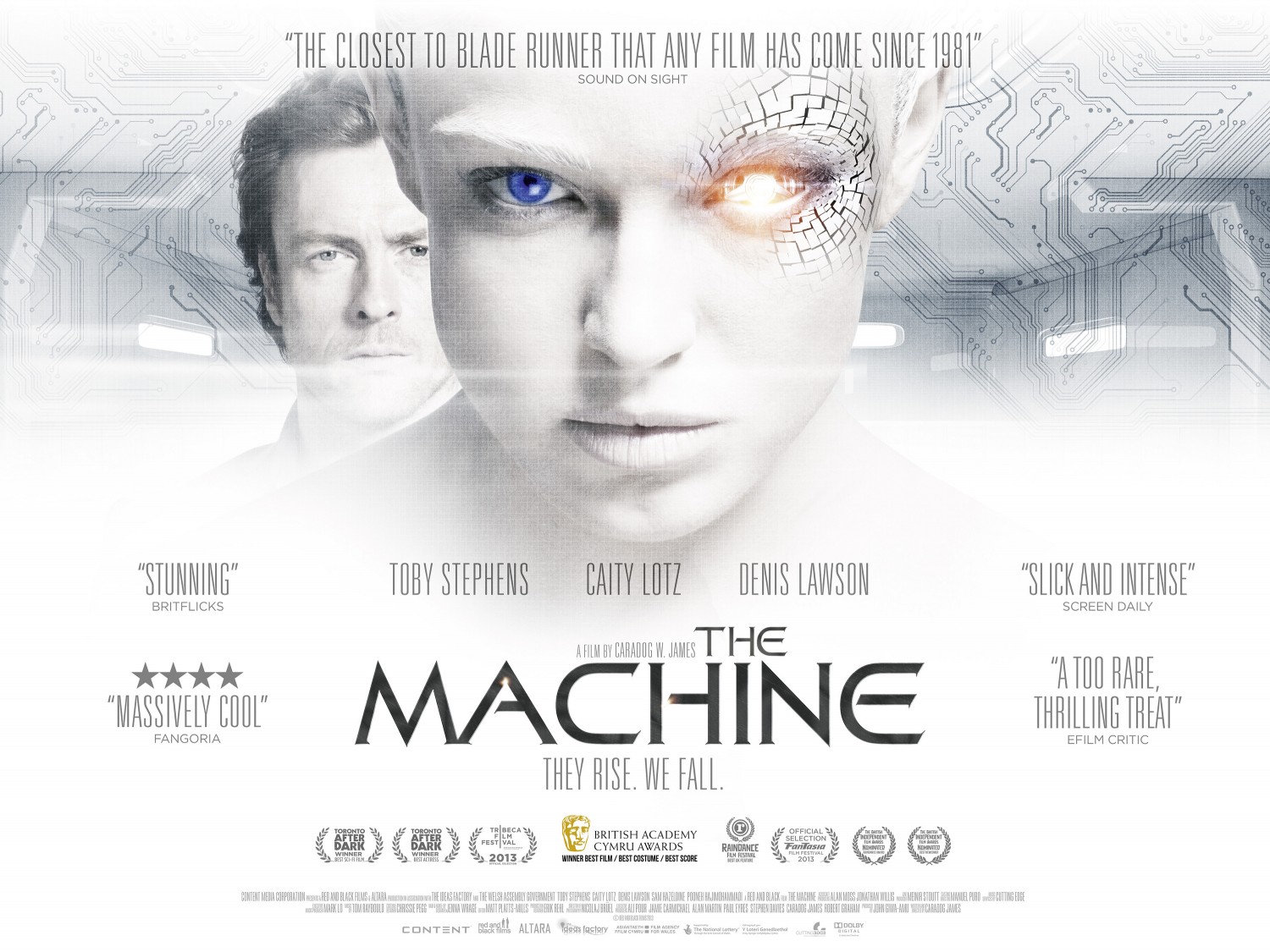 The Machine (1:20:39)
In efforts to construct perfect android killing machines in a war against China,
UK scientists exceed their goal and create a sentient robot.
Syfy is continuing to "take it's game to the next level" by ordering pilots for more shows, including

one based on t

his weeks feature movie,"The Machine." Taken from an adaptation of a Grant Morrison graphic novel, "The Machine." is based on the 2013 film that starred Caity Lotz and Toby Stephens. It's one terrific movie that seemed to slip under the radar

,

past the big budget films. In the proposed series, humans live in a world transformed by the emergence of artificial intelligence. The series will follow six characters as their stories weave around the conflict between man and technology.
AUDIO: Cliff Martinez & Randy Miller - War Dogs - The Last Drive Home
The Beast Within: The Making of "Alien" (1:57:52)
Star Trek Deep Space Nine 210 - Sanctuary (45:31)
"Star Trek: Discovery" Premiere Date Moved To May 2017
Doing another Star Trek, in any incarnation, takes time, and that's just what CBS executives are going to give Star Trek Discovery and Bryan Fuller in order to make the best Trek yet. The series was originally set to premiere in January 2017, and the move apparently comes at Fuller's request. CBS Television Studios president David Stapf told The Hollywood Reporter the studio is extremely impressed with the "incredibly vivid and compelling" vision for Discovery. They just needed a bit more time to pull it off, and it sounds like everyone was on the same page about it.
Almost Human 106 - Arrhythmia (42:20)
Lost In Space Never Dies!...Well it sounded like the thing to say considering that, once again, studios are going to attempt to update and modernize the 1960's show on Netfix. Previous attempts at rebooting the series have fallen flat

.

That included the big screen movie version in 1998 that starred William Hurt, Matt LeBlanc, and Gary Oldman. A reboot was

also

close to becoming a reality

in 2004

with John Woo directing. That pilot never made it past the first episode. Meanwhile the first cast member has been hired.

Actress Taylor Russell will play Judy Robinson.
Seven Days 114 - Parkergeist (41:26)


Trailer For "Passengers," starring Jennifer Lawrence and Chris Pratt. The two play passengers on board a spaceship transporting them to a new life on another planet. The trip takes a deadly turn when their hibernation pods mysteriously wake them 90 years before they reach their destination The film opens in the US December 21
Dr. Who 2015 The New First Series 906 - The Woman Who Lived (45:33)
Director Duncan Jones Of "Moon," And Now "Mute"
"Mute" is a long-time in the making project that's been talk

ed

about for years. The film will star Paul Rudd and Alexander Skarsgard in a futuristic version of Berlin, in which a mute bartender goes against a gang to figure out what happened to his missing partner. This film will take place in the same universe as "Moon," though it's not entirely clear how they will connect to one another. It's less a sequel and more of a companion piece, one that uses the same design and framework in which to set its story. Moon ends with Sam Bell returning to Earth, with some chatter about the fallout that Lunar Industries incurred by their use of clones, and Jones has said that we'll likely see a cameo from Sam Rockwell somewhere in the movie. Jones has said that "Moon" was inspired by films of the 1970s, such as Alien, Silent Running and Outland, in its production design and story. "Mute" appears to be inspired by another grouping of science fiction movies, particularly Blade Runner. The film goes into production next week.
The Man From U.N.C.L.E. 216 - The Dippy Blonde Affair
NASA To Announce 'Surprising' Europa Discovery Monday
"Astronomers will present results from a unique Europa observing campaign that resulted in surprising evidence of activity that may be related to the presence of a subsurface ocean on Europa," NASA officials wrote in a media advisory Tuesday. The new information comes courtesy of NASA's Hubble Space Telescope, agency officials said. You can follow the news conference live here on Space.com.
To Save The Oceans, These Guys Are Turning To The World Of Science Fiction
Earth's oceans are having a rough time right now. They're oily, hot, acidic, full of dead fish, and their levels are rising. But even though these things are true, it can be hard to truly care about the processes that are going on. So to make the ocean's future more user friendly, a Swedish sustainability group is putting out a message. Andrew Merrie, a scientist at the Stockholm University's Resilience Center, thinks science fiction can succeed in attracting attention where scientific papers have failed. "There's no easy entry point to scientific papers," says Merrie. "I've always felt in my gut that science fiction, taking changes in technology and socioeconomic and politics and putting it in a different context, has a lot of value." So he sifted through dozens of scientific papers, wrote up some stories based on them, and commissioned images from Swedish conceptual artist Simon Stålenhag. If you recognize his style, it's because Stalenhåg also did the cover art of a game called No Man's Sky.
Meet The Machines Exploring Mars Today
http://www.space.com/34052-mars-robots-exploring-red-planet-slideshow.html?utm_source=feedburner&utm_medium=feed&utm_campaign=Feed%3A+spaceheadlines+%28SPACE.com+Headline+Feed%29
Congratulations To One Of Our Own!

...

Alan Joshua, a member of the Yahoo Science Fiction Group (The sister group of Facebook's Science Fiction and Fantasy group), was recently a finalist of four awards, for his debut novel, "The Shiva Syndrome." The awards go like this: EPIC, the Electronic Publishing Internet Coalition, chose The SHIVA Syndrome as one of four 2016 eBook science fiction finalists. International Book Awards chose The SHIVA Syndrome as one of two science fiction finalists. Bookvana chose The SHIVA Syndrome as one of two finalists in Visionary Fiction, and Universal Creativity Inc14 selected The SHIVA Syndrome as 2nd place in the Best Fiction Award Contest
Cinefix Homemade Movies -Terminator 2 Biker Bar Fight
BOOK REVIEWS
Burning Midnight - Will McIntosh
http://io9.gizmodo.com/will-mcintoshs-burning-midnight-is-a-fantastic-novel-ab-1753585171
All the Birds in the Sky - Charlie Jane Anders
http://www.latimes.com/books/la-ca-jc-charlie-jane-anders-20160124-story.html
The Cold Between - Elizabeth Bonesteel
http://smartbitchestrashybooks.com/reviews/the-cold-between-by-elizabeth-bonesteel/
SCIFI NEWS QUOTE OF THE WEEK
"Our greatest weakness lies in giving up. The most certain way to succeed is always to try just one more time." - Thomas Edison